JANUARY 2017


KNEAD TO KNOW


A workshop to make bread during a led discussion about issues surrounding plans for later life and death. A brilliant idea, ran by Age Concern and facilitated by Wiggly Worm.
---
Wednesday 21st March 2012 - Dorset Button Workshop
Time: 9:30am - 12:30pm
Price: £20
Heather has kindly offered to repeat the successful session she did last summer, on how to make Dorset Buttons. Bring along yarn and coloured cotton thread (and curtain rings if you have them, if not some will be available).
Sunday 29th April 2012 - "Wonderwool"
Location: The Royal Welsh Showground, Builth Wells.
Please let us know if you are interested in coming, this Festival is a must for all fibreholics! Entrance tickets can be purchased and Workshops places booked in advance on line to save time on the day. For more information, visit the Wonderwool website.
Saturday 12th May 2012- The Back to Back Challenge
Location: The Rare Breed Farm, Guiting Power.
Come along to this exciting, charity event in aid of Cotswold Care Hospice. Please let us know if you are able to help on the day, or alternatively just come along to support Gaynor, Bridget and Marian who are in the competition team!
For more information, please see the Press Release.
Wednesday 16th May 2012 - Spinning Fancy Yarns Workshop
Location: Deerpark
Time: 9:30am - 12:30pm
Price: £20
Bridget will be showing us how to spin more exciting combinations of fibre, using a range of different techniques. Please bring along fleece, and any other materials you think may be suitable ie coloured cotton thread, ribbon, silk, beads etc.
Wednesday 6th June 2012 - Jubilee Lunch
Location: Trudy's Home (for more info, please get in touch via our Contact Us page)
All welcome from 10.30 onwards, bring your knitting/spinning wheel and a contribution to the lunch please.
Saturday 16th June 2012-World Wide Knit in Public (WWKIP)
Location: Abbey Home Farm
Time:10am-4pm
"World Wide Knit in Public," is the largest knitter run event in the world, put together by volunteers. The aim is to encourage more knitting in the community by coming together and enjoying each other's company whilst knitting in a public place.
We will be at Abbey Home Farm, Cirencester, from 10am-4pm, offering Knitting Lessons to Children, supplying needles and wool in exchange for a donation to Cotswold Care Hospice.
Come along and join us, see link below for directions
Please remember to respect the eating and drinking rules on the organic farm and
DO NOT bring your own food or drink or even snacks into any part of the building
or on the terraces. They do have a lovely cafe, where food and drinks can be
purchased all day.

http://www.theorganicfarmshop.co.uk/contact-us/
Wednesday 20th 2012 June-Knitted Dolls
Location: Deerpark
Time: 09.30-12.30pm
Lynne W. has organised a friend to come along and show us how to knit character dolls that are used by an educational psychologist...mummy daddy, policeman, teacher, doctor etc...for use in counselling. She will bring the patterns, just bring along wool and needles, sounds like fun and a very worthwhile group project.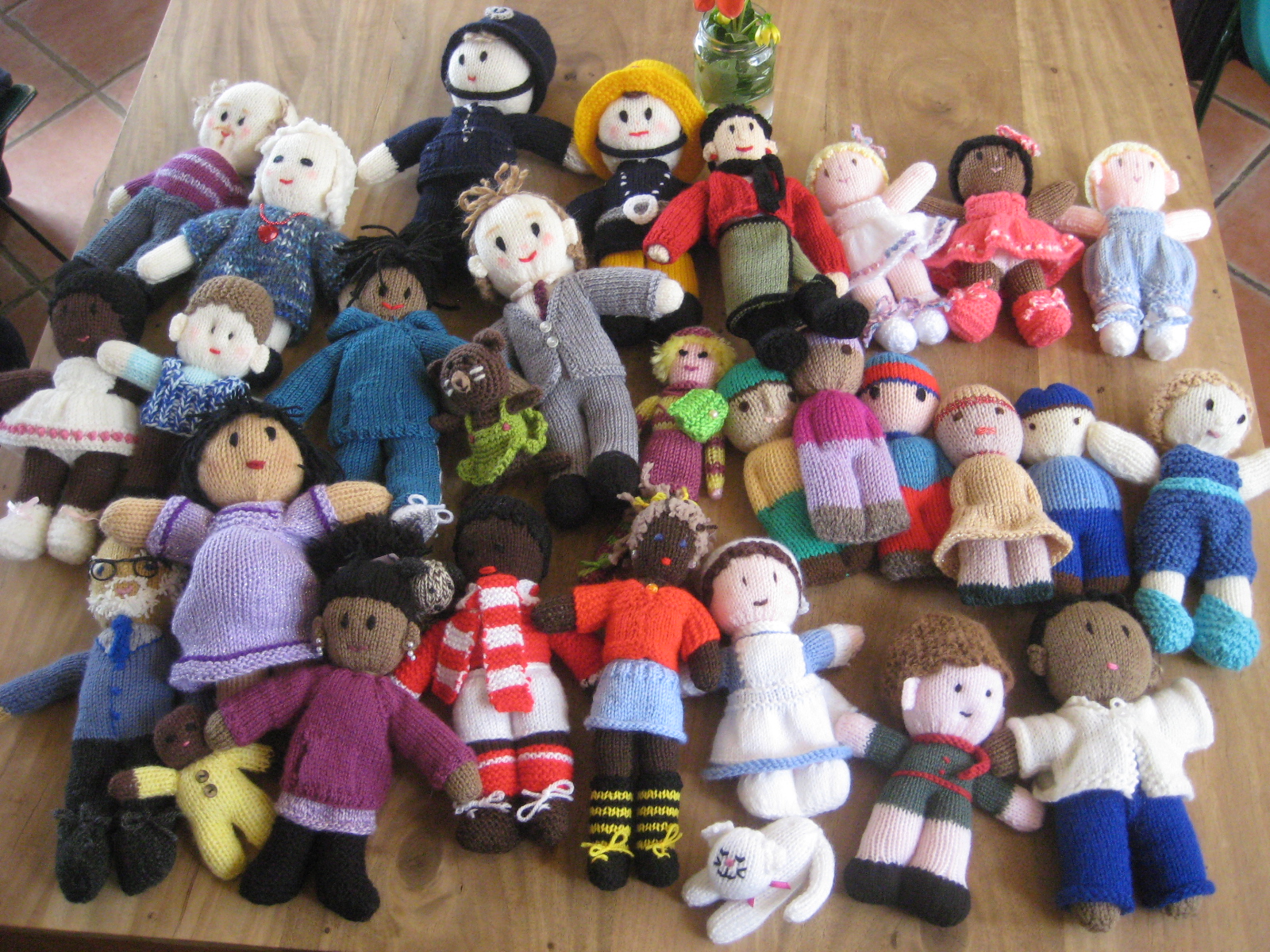 Wednesday 4th July 2012 - Dyeing Workshop
Time: 09.30am-3.30pm
Price £20.00
Marian and Bridget will show us how to achieve some stunning results using weld, indigo and cochineal. Please bring washed fleece in a bra/tights laundry bag and or washed hand spun yarn, all must be clearly identifiable. Also bring a packed lunch and your own bucket or bowl.


Wednesday 21st November 2012 - Felting
Location:Deerpark
Time: 09.30am-12.30pm
Price £15.00
Learn how to make a beautiful CORSAGE, fit to adorn your winter coat, using the wet felting technique. Heather will be leading us in another inspiring workshop, come along and join in the fun and be creative.
Wednesday 19th June 2013- Dyeing Workshop
Location:Deerpark
Time:09.30am-3.30pm
Price £20
Another inspiring session dyeing with Marian and Bridget, this time using Madder and Weld. Bring along your spun yarn and washed fleece, clearly identified in a laundry bag. You will also need a bucket or bowl and a packed lunch.